The BankNewport 10 Miler highlights the best that Newport, the City by the Sea, has to offer. Water stops are located approximately every two miles, and the course has a total elevation gain of approximately 350 feet over rolling hills.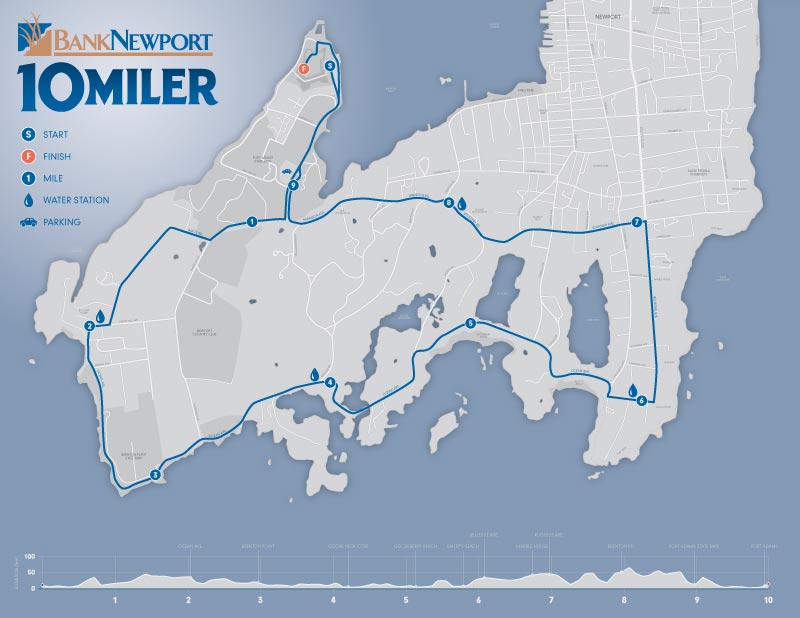 The BankNewport 10 Miler is one of the area's most popular races due in part to its beautiful waterfront scenery. There are limited access roads to and through Newport and Fort Adams State Park. Given the nature of the location, traffic and wait times while arriving and leaving should be anticipated. We are again working to expedite parking and minimize delays. You can do your part to alleviate crowds by carpooling, ARRIVING EARLY, and even consider cycling into the Fort. Thank you in advance for your patience and cooperation.
Parking
Parking is available at Fort Adams. Please allow yourself ample time on race morning to park and walk to the starting area, approximately half a mile from the designated parking areas. Please follow signs and the directions of the race volunteers on where to park.
Parking spots will fill up on a first-come-first-park basis with the spots closest to the starting area filling up first. (map)
Waved Start
The race starts at 7:30 AM with informal waves starting minutes apart. Runners will be asked to loosely organize by pace time with the fasted runners going off first and slower paces going last. There will be volunteers assisting with the pacing process.
Course Support
Water, Nuun and restrooms will be available roughly every two miles, at miles 2.1, 4.2, 5.9, and 7.8
Medical support will tail the race, and will be offered at the finish line. Digital clocks will be placed every five miles. Please review the course map above to see the specific aid station offerings.
Time Limits
We welcome runners and walkers of all speeds. However, volunteers, on course-aid and roads can only be secured and staffed for a set amount of time.
The course will "close" on a continuous pace of 16:00 minutes per mile. Anyone who cannot maintain the 16:00 minute per mile pace must move to the sidewalk as the course closes to allow regular traffic through. Runner services cannot be guaranteed for participants beyond the 16:00 minute per mile pace.
Prohibited on the Course
We do not allow the following on the course: unregistered runners, pets, baby joggers, strollers, any wheeled vehicles other than wheelchairs (In accordance with USATF guidelines, wheelchair athletes must wear helmets).
Traffic and Community Impact
We consider ourselves very fortunate to be able to share the beauty of Newport with our runners. Please be respectful of the local communities and do your best to only discard any clothing layers and trash at aid stations and/or mile-markers.
The race starts and finishes at Fort Adams State Park. Roads will be managed by the Newport Police Department and Department of Environmental Management, and will largely remain open to traffic throughout the day, but delays and temporary stoppages can be expected from 7:00 AM – 11:00 AM throughout the course.
Subscribe to our Newsletter
---
By submitting this form, you are consenting to receive marketing emails from: . You can revoke your consent to receive emails at any time by using the SafeUnsubscribe® link, found at the bottom of every email.
Emails are serviced by Constant Contact